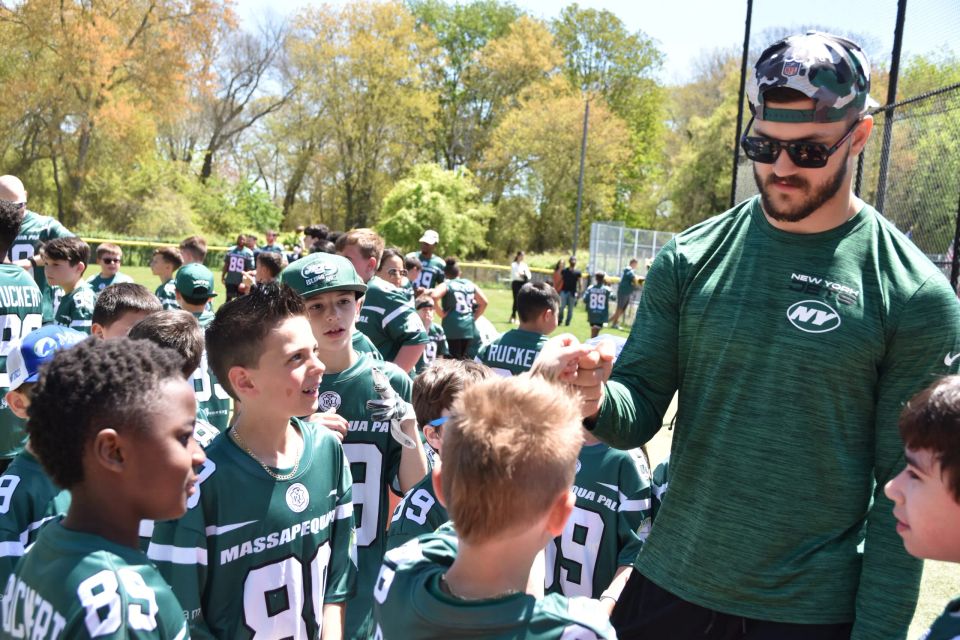 GreaterLongIsland.com


Long Island's Own Jeremy Ruckert gives back to the community with youth football camp
Growing up a Jets fan on Long Island, Jeremy Ruckert relished the opportunity to go to football camps and to be able to get the chance to meet NFL players.
His dream was to one day play for the Jets and that was a dream that came true when the former Lindenhurst High School star was taken by the Jets in the third round of last year's NFL Draft following his collegiate career at Ohio State.

Ruckert certainly hasn't forgotten where he comes from and he knows that there are other kids like him growing up on Long Island with the same dreams he had. With the desire to give back to his community, Ruckert was back on Long Island Sunday to do a football camp at the Lou Anthony Sports Complex in Massapequa. The event, attended by more than 130 boys and girls, was presented by Pioneer Sports and the Massapequa PAL. 
 
Pioneer Sports




Pioneer Sports Has Partnered with the New York Jets
Pioneer Sports has partnered with the New York Jets to run youth football clinics all across Long Island including All Sportz in Melville, NY. Besides having fun, kids learn the fundamentals of football and develop their skills.
Pioneer Sports




Bob Nystrom Visits All Sportz in Melville
Former professional ice hockey right winger Bob Nystrom visits All Sportz in Melville, NY to meet fans and signs autographs.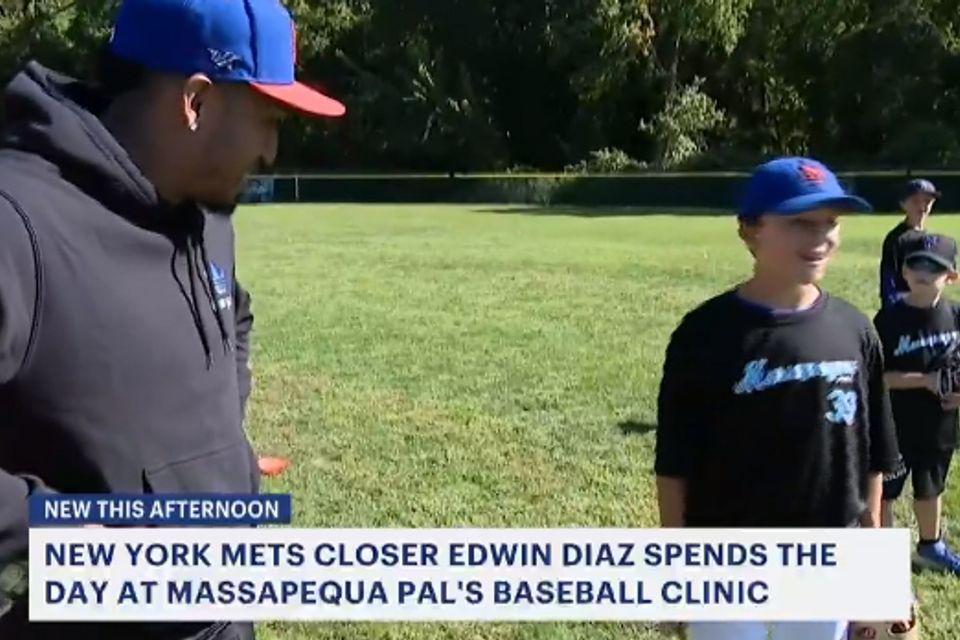 News 12 Long Island


New York Mets closer Edwin Diaz teaches kids at Massapequa baseball clinic
New York Mets reliever Edwin Diaz visited a baseball clinic Monday in Massapequa.
Aspiring players got the chance to train and play with the pro. Diaz says it was also a great experience for him.
"We're here with the kids having fun, teaching them, giving some lessons," Diaz says.
Mr. Met joined Diaz on the field before he spoke to the young players about how to take their talents to the next level.
News 12 Long Island




New York Mets First Baseman Daniel Vogelbach stops by Long Island youth baseball camp in Massapequa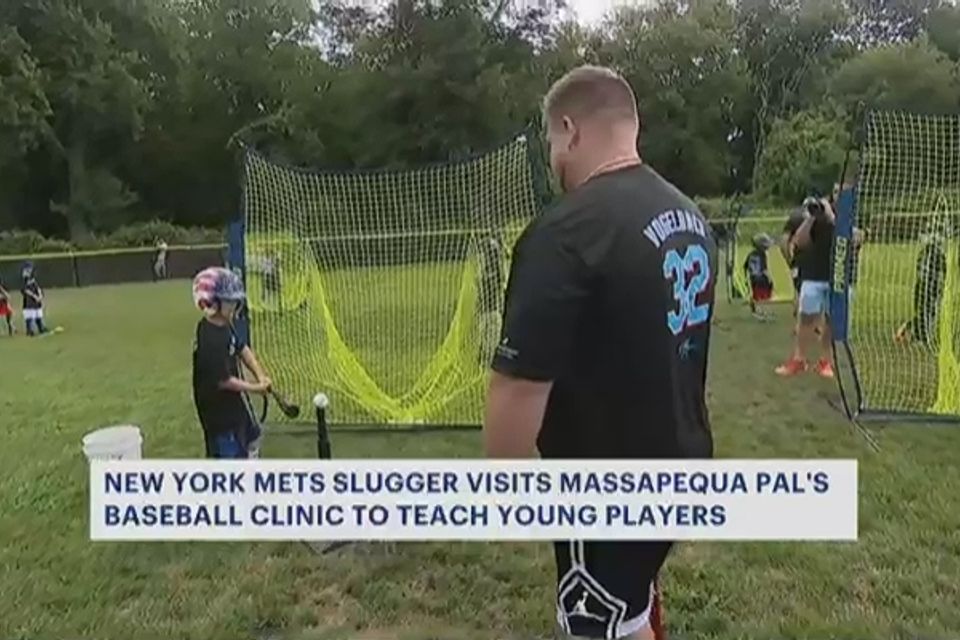 News 12 Long Island


New York Mets slugger Daniel Vogelbach visits Massapequa baseball clinic to teach young players
New York Mets slugger Daniel Vogelbach visited the Massapequa PAL's baseball clinic to teach some young players on Monday.
The lucky players spent the day training with the renowned baseball star.
"To be able to give back to the community - you know something I really enjoy is putting a smile on kids' faces and I kind of pride myself on that every day and trying to be a good person," he said.

He also offered the players his best piece of advice; not to let anyone stop you from chasing your dreams.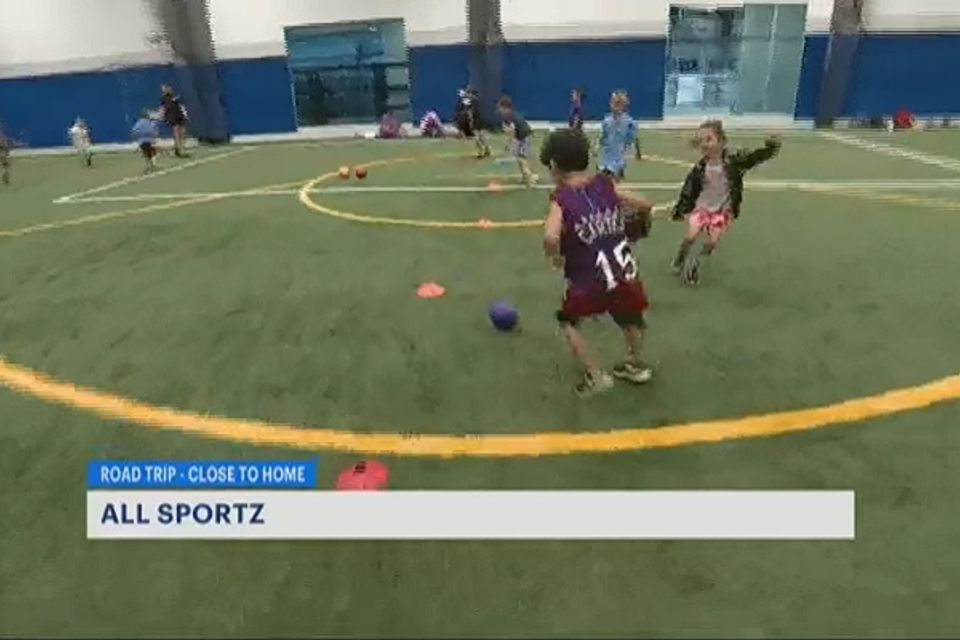 News 12 Long Island


Play all type of sports at All Sportz in Melville
Whether you're a kid or an adult -- these hot summer days have been tough to deal with if you play sports outside. So how about a state of the art, climate controlled environment? In this Road Trip: Close to Home, News 12's Erin Colton takes us to All Sportz in Melville.
All Sportz is Long Island's newest indoor, multi-sport complex for the ultimate sporting experience. Name a sport -- and they provide the environment for it.
One of the main attractions is dek hockey - it's hockey but on a court so if you can't skate - no problem.
Have you heard of gaga ball? It's the new craze - you'll find kids on a court all day - it's like dodgeball but the balls stay on the ground.
Pickleball is taking Long Island by storm! You can play on one of their three new pickleball courts.
And if your sport of the summer -- is training for your sport during the year -- All Sportz has an amazing turf field for speed and agility clinics. It's even used for camp and summer programs.
One of the best parts of All Sportz -- you can come for any game -- or hold your kids' next birthday party there. You can even join a year-round league.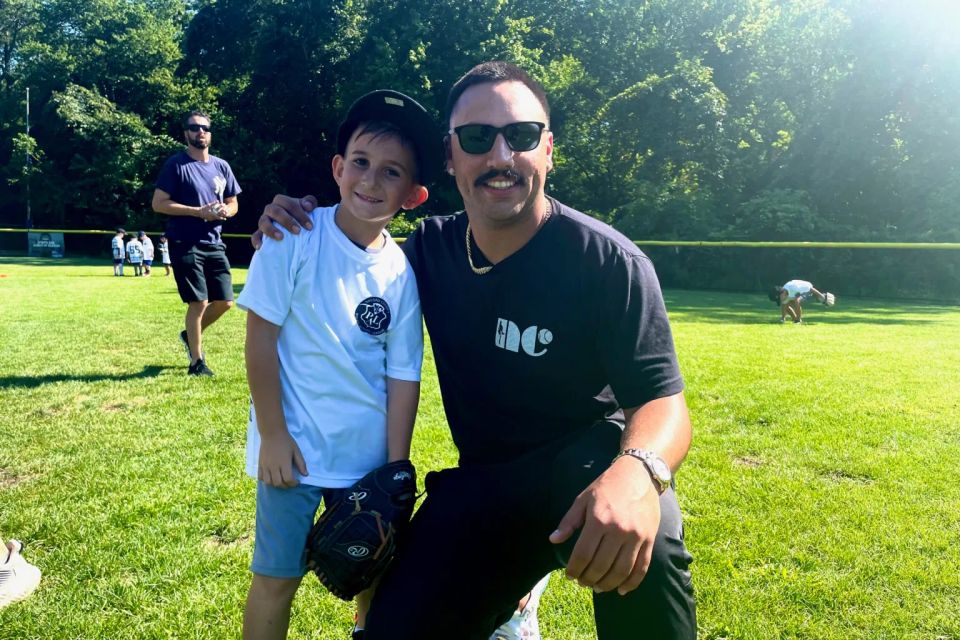 GreaterLongIsland.com


Yankees pitcher Nestor Cortes stops by LI youth baseball clinic in Massapequa
"Nasty" Nestor Cortes isn't so nice to Big League hitters but he's a sweetheart to children in the local community.

The Yankees All-Star pitcher spent his Thursday morning giving pointers and signing autographs for children in Massapequa's Lou Anthony Sports Complex.It was all part of a baseball clinic hosted by the Nassau County PAL and organized by Pioneer Sports Events.

Greater Long Island TV's Starr Fuentes caught up with Cortes during the event. See her recap below. Scroll down for photos from the day.
 
News 12 Long Island




Yankees pitcher Nestor Cortes visits Massapequa PAL baseball clinic on Long Island
The Massapequa Police Activity League welcomed All-Star Yankees pitcher Nestor Cortes to their baseball clinic. Cortes and the young players spent Thursday morning going over drills and working on their pitching arms.
"I've been playing baseball since I was 4 years old, so this brings back a lot of memories for me," Cortes says.
The whole town of Massapequa has rallied behind their hometown team as they are 200 miles away in Williamsport, Pennsylvania.
"People care about where we are from and care about our hometown and they are rooting for us because it's where they used to grow up as a kid," says Liam St. George.
The Massapequa Coast Little League team needs all that support as they prepare for their game in the Little League World Series against Hawaii.
Cortes, who knows about big games, had some advice for the boys.
"I would tell them to have fun, enjoy the moment because 10-15 years down the road they're always going to remember these moments and that I think that's special for them," Cortes says.

READY TO GET YOUR AFTER-SCHOOL SPORTS PROGRAM OFF THE GROUND?
Our experienced team of professionals are ready to help. Contact us today to learn more.